Zestawy pomocy w terenie
Zmniejsz przestoje i wykonaj zadanie
W mało prawdopodobnym przypadku zerwania opryskiwacza, gdy nie ma części pod ręką, może to spowodować przerwanie pracy natryskowej.
Pudełko HARDI FieldAid to zbiór poręcznych części zamiennych, które po awarii mogą sprawić, że będziesz ponownie rozpylać.
Części są zapakowane w małe, mocne kartonowe pudełko, które jest wystarczająco poręczne, aby mieć je ze sobą w polu. Obejmują również zestawy remontowe, które można wykorzystać do rutynowej konserwacji na późniejszym etapie.
Pudełko HARDI FieldAid to niewielka inwestycja, która pozwala na utrzymanie ważnego zadania natrysku na czas i pomaga utrzymać Cię w polu.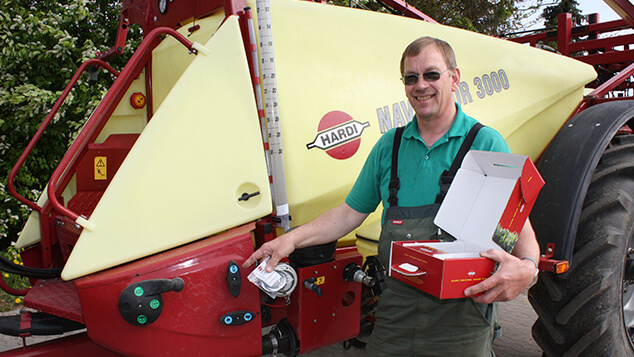 NK - FieldAid Box 75085200
| Ref. No. | Quantity | Description |
| --- | --- | --- |
| 240074 | 3 | O-RING D 6,3 X 2,4 NITRIL |
| 240925 | 1 | O-RING D 49,5 X 3,0 NITRIL |
| 241017 | 2 | O-RING D 74,5 X 3,0 NITRIL |
| 241371 | 6 | DIAPHRAGM FOR SADDLE |
| 242021 | 1 | O-RING D 37,69 X 3,53 VITON |
| 242594 | 5 | O-RING D 14 X 1,78-SH.70-EPD |
| 321484 | 1 | 3/4' RG BUSHING F/D 22 TUBE |
| 322114 | 3 | NUT F. COMP. SADDLE |
| 322116 | 3 | BOLT M 6 X 20 PA SQUARE |
| 330326 | 2 | GASKET D 30/24 X 2 |
| 750268 | 1 | GASKET SET FOR BK |
NAVIGATOR / COMMANDER - FieldAid Box 75084100
| Ref. No. | Quantity | Description |
| --- | --- | --- |
| 145994 | 1 | CRAMP FOR S40 |
| 145995 | 1 | CRAMP FOR S53 |
| 145996 | 1 | CRAMP FOR S 67 |
| 145997 | 1 | CRAMP FOR S 93 |
| 242504 | 1 | O-RING D35 |
| 242570 | 1 | O-RING D150,0 X 5,0 SH7O VITON |
| 281551 | 1 | ½" BALLOFIX on/off |
| 320047 | 2 | 1/2' SCREW CAP RG |
| 320283 | 2 | 3/4' RG CAP .................. |
| 321484 | 2 | 3/4' RG BUSHING F/D 22 TUBE .. |
| 330024 | 12 | O-RING D 34,5 X 3,3 PUR ...... |
| 330072 | 12 | GASKET D 52,5 X 44,5 X D 4 ... |
| 330595 | 1 | GASKET FOR ELBOW 3/4" |
| 334531 | 5 | CLAMP 3/4' |
| 334534 | 5 | CLAMP 1/2' |
| 334926 | 3 | Carrosel TRIPLET |
| 716236 | 2 | HOSE UNION |
| 724621 | 2 | HOSE UNION 3/4 F 3/4 NUT W RIN |
| 725078 | 1 | SNAP-FIT TRIPLET W/O.NOZ.HOLD. |
| 726556 | 1 | 1/2' HOSE TAIL W O-RING S 53 . |
| 726558 | 1 | HOSE TAIL STRAIGHT 3/4' S53 .. |
| 726559 | 1 | HOSE TAIL STRAIGHT 1' S53 .... |
| 726567 | 1 | HOSE TAIL 90' 1/2' F. S 40 |
| 741726 | 1 | GASKET SET VITON F. S93 |
| 741826 | 1 | EASYCLEAN SUCTION SEAL KIT |
| 741827 | 1 | CYCLONE PRESSURE SEAL KIT |
| 750228 | 1 | 12 x Nozzle filter red |
| 755754 | 1 | GASKET SET FOR EVC-DISTRIBUTOR |
| 14014400 | 1 | VALVE SEAT SS |
| 28048600 | 4 | FUSE 15A Auto |
| 61016500 | 1 | ELBOW |
| 72089900 | 1 | COUNTER VALVE S67 2001 |
MASTER / RANGER - FieldAid Box 75084000
| Ref. No. | Quantity | Description |
| --- | --- | --- |
| 145994 | 1 | CRAMP FOR S40 |
| 145995 | 1 | CRAMP FOR S53 |
| 145996 | 1 | CRAMP FOR S 67 |
| 145997 | 1 | CRAMP FOR S 93 |
| 242594 | 10 | O-RING D 14 X 1,78-SH.70-EPD |
| 281551 | 1 | ½" BALLOFIX on/off |
| 320283 | 2 | 3/4' RG CAP |
| 321484 | 2 | 3/4' RG BUSHING F/D 22 TUBE |
| 322138 | 1 | PIPE HEAD 1' X 1' TUBE THREAD |
| 330326 | 10 | GASKET D 30/24 X 2 |
| 330595 | 2 | O-RING D 24,6/20 X 2,1 |
| 330735 | 2 | GASKET D 30/26 X D 2 |
| 334201 | 1 | CALIBR.DISC F/SELFCL.FILTER WHITE |
| 334531 | 5 | CLAMP 3/4' |
| 334534 | 5 | CLAMP 1/2' |
| 334926 | 3 | Carrosel TRIPLET |
| 716236 | 2 | HOSE UNION ½" |
| 724621 | 2 | HOSE UNION 3/4 F 3/4 NUT W RIN |
| 725078 | 1 | SNAP-FIT TRIPLET W/O.NOZ.HOLD. |
| 726556 | 1 | 1/2' HOSE TAIL W O-RING S 53 |
| 726558 | 1 | HOSE TAIL STRAIGHT 3/4' S53 |
| 726559 | 1 | HOSE TAIL STRAIGHT 1' S53 |
| 750228 | 1 | 12 x Nozzle filter red |
| 755754 | 1 | GASKET SET FOR EVC-DISTRIBUTOR |
| 61016500 | 1 | ELBOW |
COMMANDER i - FieldAid Box 75084200
| Ref. No. | Quantity | Description |
| --- | --- | --- |
| 145994 | 1 | CRAMP FOR S40 |
| 145995 | 1 | CRAMP FOR S53 |
| 145996 | 1 | CRAMP FOR S 67 |
| 145997 | 1 | CRAMP FOR S 93 |
| 242463 | 4 | O-RING D 17,1 X 1,78 VITON |
| 242504 | 1 | O-RING D35 |
| 242570 | 1 | O-RING D150,0 X 5,0 SH7O VITON |
| 281551 | 1 | ½" BALLOFIX on/off |
| 320047 | 2 | 1/2' SCREW CAP RG |
| 320283 | 2 | 3/4' RG CAP .................. |
| 322255 | 2 | NIPPLE 3/4'-3/4' |
| 322256 | 2 | 1/2'PIPE BRANCH F.TUBE SS |
| 322257 | 2 | 3/4'PIBE BRANCH F.TUBE SS |
| 330072 | 12 | GASKET D 52,5 X 44,5 X D 4 ... |
| 330595 | 1 | GASKET FOR ELBOW 3/4" |
| 334531 | 5 | CLAMP 3/4' |
| 334534 | 5 | CLAMP 1/2' |
| 390570 | 1 | STOPPER FOR 3/4' UNION |
| 726556 | 1 | 1/2' HOSE TAIL W O-RING S 53 . |
| 726558 | 1 | HOSE TAIL STRAIGHT 3/4' S53 .. |
| 726559 | 1 | HOSE TAIL STRAIGHT 1' S53 .... |
| 726567 | 1 | HOSE TAIL 90' 1/2' F. S 40 |
| 732319 | 2 | 5/8' HOSE TAIL FOR 3/4' |
| 741446 | 1 | SEAL KIT VITON S56+S67 VALVE |
| 741726 | 1 | GASKET SET VITON F. S93 |
| 741726 | 1 | GASKET SET VITON F. S93 |
| 741822 | 1 | GASKET SET F. DIST. SEC |
| 741826 | 1 | EASYCLEAN SUCTION SEAL KIT |
| 741827 | 1 | CYCLONE PRESSURE SEAL KIT |
| 741831 | 1 | SPAREPARTS F. S93 SUCT.VALVE |
| 750228 | 1 | 12 x Nozzle filter red |
| 755726 | 1 | GASKET SET F. DISTRIBUTOR |
| 14014400 | 1 | VALVE SEAT SS |
| 22096600 | 4 | SEEGER-SPRINGRING D20X1.75 SS |
| 26023500 | 2 | FUSE 10A SLACK 6,3X32MM PF |
| 28047500 | 1 | HN Induktiv sensor M12 w. wireL=1 M |
| 28048500 | 4 | FUSE 10A AUTO |
| 28048600 | 4 | FUSE 15A Auto |
| 32237000 | 2 | NIPPLE 3/4'-3/4' |
| 33517200 | 2 | 33507900 Carrosel PENTALET |
| 61016500 | 1 | ELBOW |
| 72089900 | 1 | COUNTER VALVE S67 2001 |
| 75081300 | 1 | 4 x PENTLET LESS MOTOR |